DEWAXING, DEPIGMENTATION/SUGAR REMOVAL, AND SOLVENT RECOVERY
Membrane Nanofiltration Systems
Average permeation rate ranges between 30 (X-Spiral 2.5) and 400 (X-Spiral 8) gal/h (60-800 gal/h for solvent recovery)
Capable of dewaxing or depigmenting between 2 (X-Spiral 2.5) and 30 (X-Spiral 8) kg of ethanol extract per hour
Enables cold ethanol extraction at -20 °C with no decrease of product quality, increasing extraction throughput on your existing system
Ultra-low energy dual-pump design enables incredibly efficient solvent recovery, with one-third the energy consumption of other Organic Solvent Nanofiltration (OSN) units
Removes up to 95% of solvent after initial extraction
Extremely flexible universal membrane housing allows use of any filter element – does not require the use of expensive proprietary membranes
Pressures up to 1000 PSI and cross-flows between 10 (X-Spiral 2.5) and 100 (X-Spiral 8) GPM
Low-cost of ownership: filters typically last 6-12 months ($400 to $1,400 each)
advantages of nanofiltration
In-line dewaxing ensures optimal product quality and purity throughout downstream processes, and eliminates the costly winterization process. Residue-rich crude can cause coking of distillation equipment, reducing efficiency of solvent recovery and molecular distillation. Sugar residues present in residue can cause clogging of gear pumps and check valves, leading to frequent cleaning and maintenance. By removing these contaminants prior to solvent recovery, maintenance of downstream equipment is greatly reduced, while enhancing product color, purity, and yield.

OSN: Low Energy, Low Temperature Solvent Recovery
Traditional solvent recovery methods require significant energy input in order to heat the miscella and then cool the vapors to condense the solvent. Over time, the electrical costs can add up, with large falling film evaporators requiring tens or hundreds of thousands of dollars a year in energy costs alone. Organic Solvent Nanofiltration (OSN) enables low-energy recovery of ethanol in a rapid, safe, and efficient manner, without exposing the product to excess heat.
OSN functions in a similar manner as reverse osmosis, specially designed filtration membranes have pores of a specific size. In solvent recovery applications, these pores are small enough that only ethanol can pass through; in dewaxing/depigmentation applications, the pores are large enough for solvent, terpenes, and cannabinoids to pass through. Pressure is used to overcome osmotic forces, enabling rapid concentration of the miscella.
Additionally, very little heat is generated in the process. Thus solvent recovery can be accomplished without decarboxylation of the target cannabinoids, enabling the large-scale production of quality shatters and crumbles from cold-ethanol extractors.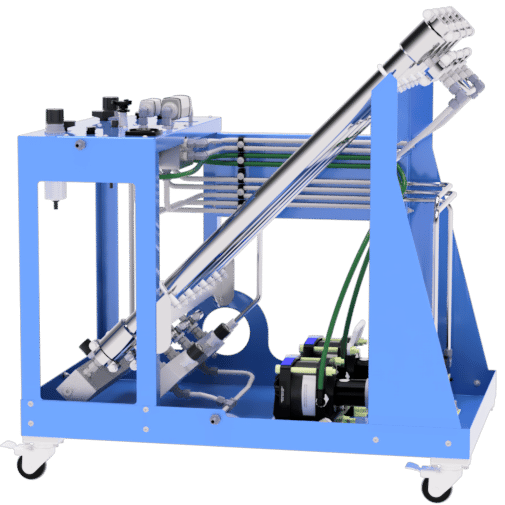 In my experience working with Root Sciences, it has been great to say the least! Whenever we have an issue with our VTA I can always email, text, or call a number of people that are available to help/walkthrough troubleshooting techniques to help fix an existing issue or to make the system the most efficient possible. I am very appreciative of the customer service that is provided by the team and hope to continue our relationship well into the future.
Root Science has been fantastic to work with. Our (VKL 70-5) is the most trouble-free piece of equipment that we have in our labs. Besides normal maintenance such as seals, washers, and gaskets it has never left us with a gap in our process. It is a pleasure to own such a quality piece of equipment!
In the cannabis and hemp industry, there are a lot of promises to juggle and opportunities to navigate with no certainty of what outcome may actually be. Root Sciences has delivered a system that not only does EXACTLY what it has been proposed to do but the support that follows in unparalleled quality and industry knowledge… The customer service is not only extremely knowledgeable but well-rounded in navigating this growing industry. They provide the highest quality equipment with a dedicated team to help the customer grow with the industry… and that is an invaluable combination.
I am jubilant to inform you that both systems have been running immaculately since your departure – you can tell an expert was at work… Very content with the service provided by Root Sciences.
Highly satisfied with the equipment, training experience, durability, and ease of use. Many thanks from my team to yours.
Best distillate system in the world.
My partner and I have built and run several labs over the past few years, and VTA's are the only distillation units we recommend to our clients, simply based on our experience with them. So again, thank you!
Root Sciences has been a wonderful partner to work with. Through the sales cycle, commissioning and operations they have been receptive, and helpful to Adastra's needs. In one instance, a critical component of our distillation plant was damaged and needed to be replaced. Kippy was quick to assist and we suffered less than 36 hours of down time. Keep up the good work Root Sciences!