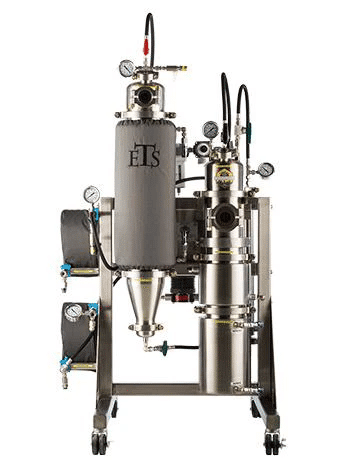 | | |
| --- | --- |
| CAPACITY | The miniMeP has a material capacity of 10 liters which offers processing of up to 5 pounds of material per hour. |
| SIZE | Measuring 9 square feet (3'x3'), The miniMeP footprint is designed to fit your current extraction room infrastructure without the need for costly expansion. |
| TECHNOLOGY | With ExtractionTek's jacketed components operators are able to adjust temperature parameters accordingly for the perfect extraction every time. |
| VERSATILITY | The miniMeP provides the flexibility to run Propane, Butane, and blended solvents according operators the ability to produce ALL of today's popular concentrated retail products. |
| INTEGRITY | Proudly assembled in Colorado, ExtractionTek refuses to compromise on material quality. The miniMeP and all units at ETS are built using U.S. Steel and coupled with the highest quality domestic components. |
ExtractionTek's miniMeP offers the production throughput extraction operations demand in today's accelerating concentrates market. Built on the design of the closed-loop industry-leading Modular ExtractionPlatform, The miniMeP comes equipped with the latest in modern extraction technology. This innovative modular design evolves with your business, greatly reducing the reinvestment costs associated with your growing extraction operation and streamlining expansion to the 30 liter and 70 liter machines.