Wiped-Film Short Path Distillation System
Throughput Capability: 40,000 mL/h
Optimal Yields and Potency: Finished distillate contains up to 99% total cannabinoids
Independent Degassing Stage: Separate degassing stage ensures optimal processing regardless of flow rate and feedstock quality
Fully Jacketed System: Heated from start to finish, negating the use of heating tape or heat guns to keep product moving through the system
True Continuous Feed: Unique design allows uninterrupted operation through continuous feed into the system and dispenses finished product to atmosphere without breaking vacuum
Fully Pump-Driven Operation: Integrated pumps provide full operator control over feed and discharge rate instead of relying on gravity fed systems
GMP Ready: Equipment can be customized according to your URS to meet any local or international GMP requirements
Expert On-Site Training: Instructions for operation of equipment and proprietary parameters for producing distillate are included with purchase
Wiped-Film Short Path Distillation Equipment
Root Sciences' wiped-film molecular distillation plants are specifically intended for the processing of cannabis and hemp crude oil, with honest and accurate throughput/yield rates reflecting that. Designed and manufactured by VTA of Germany, these machines are expertly engineered to produce distillate that can be used in a wide variety of products commonly found on the market today.
Equipment is available to suit a range of operations, from small-scale labs focusing on the recreational THC market, all the way up to large-scale hemp processing facilities focusing on industrial CBD production, and everything in between.
The VTA VK 200-40 is the flagship offering in the VTA line up and is the industry standard for industrial-scale hemp processing facilities. It is a dual-stage short-path distillation plant with a degassing stage for processing winterized and decarboxylated cannabis or hemp oil derived from extraction methods using CO2, light hydrocarbon, or cold ethanol. The VK 200-40 is designed to be operated in semi-automatic mode for continuous production in state-of-the-art facilities.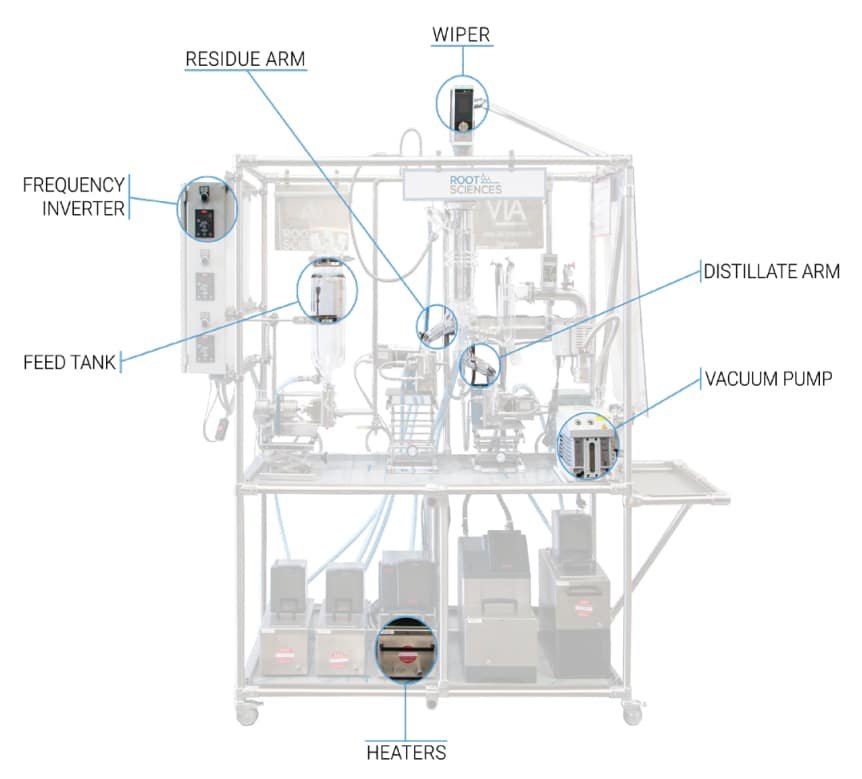 Throughput
40,000 mL/h
Distillate Yield
(per 8 hr. shift)
280 L
Evaporator Surface Area
0.4 m²
Power Requirements
3Φ 400 V, 60 Hz, 100 A
Stages
Dual
Dimensions
(L x W x H)
25.6' x 6.9' x 12.9'
Weight (gross)
6,000 kg
Certification
UL ready (all necessary individual components are UL listed)
Warranty
1 year (excluding glass and vacuum system)
Materials Used
316 stainless steel, graphite wipers
Material

Cannabis

Hemp

Cannabis

Hemp

Daily Processing Time

8-hour (one shift)

24-hour continuous (three shifts)

Daily Distillate Yield

280 L

1,050 L

Daily Distillate Value

$2.28M

$1.23M

$6.85M

$3.69M

Payback Period

1.6 days

3.4 days

0.5 days

1.1 days
In my experience working with Root Sciences, it has been great to say the least! Whenever we have an issue with our VTA I can always email, text, or call a number of people that are available to help/walkthrough troubleshooting techniques to help fix an existing issue or to make the system the most efficient possible. I am very appreciative of the customer service that is provided by the team and hope to continue our relationship well into the future.
Root Science has been fantastic to work with. Our (VKL-70) is the most trouble-free piece of equipment that we have in our labs. Besides normal maintenance such as seals, washers, and gaskets it has never left us with a gap in our process. It is a pleasure to own such a quality piece of equipment!
In the cannabis and hemp industry, there are a lot of promises to juggle and opportunities to navigate with no certainty of what outcome may actually be. Root Sciences has delivered a system that not only does EXACTLY what it has been proposed to do but the support that follows in unparalleled quality and industry knowledge… The customer service is not only extremely knowledgeable but well-rounded in navigating this growing industry. They provide the highest quality equipment with a dedicated team to help the customer grow with the industry… and that is an invaluable combination.
I am jubilant to inform you that both systems have been running immaculately since your departure – you can tell an expert was at work… Very content with the service provided by Root Sciences.
Highly satisfied with the equipment, training experience, durability, and ease of use. Many thanks from my team to yours.
Best distillate system in the world.
My partner and I have built and run several labs over the past few years, and VTA's are the only distillation units we recommend to our clients, simply based on our experience with them. So again, thank you!